How to Renovate a House on a Budget – 10 Affordable Home Improvement Ideas
Any homeowner can make significant home improvements that do not require much effort. This will improve the overall appearance and add value to your home when you sell it one day. If you don't want surprises, it is recommended that you hire a professional team to help you with the work.
In this article, we will show you 10 easy and affordable home improvements that will make your house look like new without breaking the bank.
1. Get organised
Getting organised is the most affordable home improvement project that you can self-manage. When organising a home, the goal is to get rid of everything you no longer need. Go through each room and empty the shelves. After that, you should reorganise what is left.
Remember that an organisation plan will not work if it is not maintained. Whatever organisational system you choose, make sure it is easy to stick to in the long run.
2. Painting - a great DIY home improvement!
Painting is a great way to change the overall look of a home. This task requires a small budget if you want to do it yourself. You can choose to paint your entire house, the entire exterior, or just the doors. It is up to you to paint as much or as little as you want.
Don't limit yourself to just painting the walls!
Painting tiles is a quick way to change the character of your interior. In just a few hours, old tiles in the bathroom or kitchen can be restored to their former glory and dramatically change the look of the room.
One of the main benefits of painting your home is that it protects your home from wear and tear. Not only is painting a great way to renovate a house on a budget, but it also protects your home from dust and mould.
If you're dealing with a damaged, uneven wall surface, it might be worthwhile to hire professional plasterers to repair and smooth out the surface before starting the painting process. When you combine it with a good quality paint, the final result will truly stand out.
3. Renovate bathroom tiles on a budget
If you are wondering how to renovate a house on a budget, refreshing bathroom tiles can make a world of difference. Even very decorative tiles will not look good if the grout that joins the tiles together is not kept clean. Grout unfortunately gets dirty quite quickly, so it pays to know how to freshen it up efficiently and easily.
You can choose from a variety of preparations, ranging from markers to repair compounds. There are also home remedies for stained grout. Things like baking soda or vinegar could work wonders. You can refresh or change the colour of the grout within a day. If the grout lines are infested with mould, you may need to replace them completely.
If the silicone grout on your sink or bathtub is infested with mould, it's time to replace it - an easy and inexpensive way to freshen up your bathroom. With the right tools and methods, silicone replacement goes so smoothly that you won't even notice it's happening.
4. Adding updated systems and appliances
Regardless of whether you plan to sell your home or stick around, this is a home improvement project that you should consider doing in a meaningful way. You need to make sure that all the systems in your home are up to date and working properly. Here are the home systems that you can fix or update:
Air conditioning
Plumbing line
Water heater
Roof system
Sewer system
This project can be expensive, but it can be worth it.
5. Replacement of appliances
Take a look at the doors of your home. It may be your front door or the doors to your kitchen cabinets. Does the furniture impress you? If not, you need to make some changes.
You can replace the old door handles and also install new door hinges. Replacing hardware can take the most time, but it's one of the easiest ways of renovating a house on a budget and will give your home a new, fresh look.
6. Add technology
Homes that are equipped with the latest technology are becoming more and more popular. With advances in technology, homes are becoming smarter and smarter. Smart homes allow you to control electrical devices remotely through an internet connection.
Below are some smart home devices that are becoming increasingly popular:
Smart light bulbs
Smart thermostats
Smart speakers
Wi-Fi Security cameras
Video doorbells
Intelligent lock
The most important benefit of a smart home is convenience. You can control it from anywhere as long as you have a stable internet connection.
7. Improve the landscaping
If you need to add value to your home on a budget, look no further than improving your backyard or front yard. The American Society of Landscape Architects recommends investing 10% of your home's value in landscaping. The outside of a home says a lot about the inside. Your lawn is what everyone sees first when they stop in front of your home. You should make it more attractive to yourself and to potential buyers if you want to sell it.
Let's look at some ways you can improve your landscape:
Plant a tree
Cut back bushes and shrubs
Consider an artificial lawn
Update your mulch
Tighten the door
Maintain a healthy lawn
Consider installing an irrigation system
A well-maintained landscape improves the living environment.
8. Consider adding a patio
Patios benefit every home. A patio serves as a backyard retreat for entertaining purposes. Adding a patio to your home is a great investment. A beautiful patio also completes your outdoor living.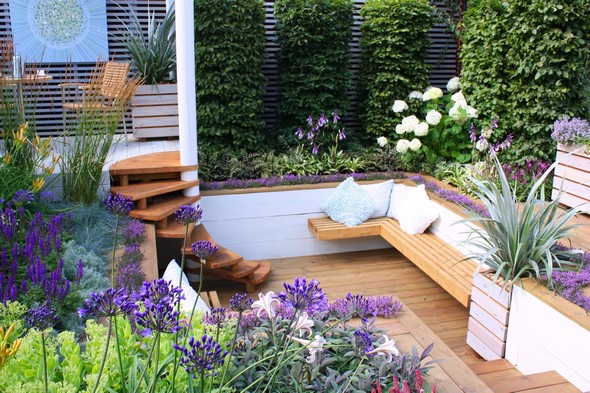 9. How to renovate a bathroom on a budget? Use bathtub Liners
This is a quick way to freshen up your bathroom and old bathtub at a fraction of the cost and the time of full bath replacement. If your bathroom doesn't need a general renovation and only the bathtub is the offending element, you can quickly and inexpensively renew its appearance.
With no drilling or debris, after only 2 hours of installation time, your bathroom will have a new bathtub. The process consists of applying an acrylic overlay that adheres and covers perfectly. The elements are joined with a two-component foam, then the drains are connected to the new tub and the joints between the tub and the tiles are siliconized.
If you're not totally convinced by that, how about hiring bathroom fitters to beautifully remodel your bathroom?
10. Kitchen furniture metamorphosis
To freshen up the look of your kitchen without relative clutter and unnecessary work, simply swap out the fronts of your kitchen cabinets for brand new ones. It's a simple process where all you have to do is order new fronts, unscrew the old doors and install the new ones.
Sounds great, doesn't it? In one, two, three seconds you have a beautiful, new smelling, dream kitchen again. It makes you want to cook something delicious in it again.
Remodeling your home has several benefits. Let's take a look at some of them:
Makes your home more comfortable and functional
When you've done a little DIY work, you're remodeling your home in a way that reflects your tastes. Not only do you create more space, but you can also remodel your dream home.
Remodeling your home reduces energy consumption. This can save you money in the long run. Energy-saving appliances include energy-efficient windows, LED lighting, and energy-saving electrical outlets. These appliances were not available in the past.
If you plan to sell your home someday, renovations will increase the value of your home. The standard recovery for the resale value of a home is about 56% of the cost of renovations but it may be much bigger. This report is based on a survey of real estate professionals. Basic home improvement projects like good quality painting will increase the value of your home.
Improve the comfort of your home
Your home should be a place where you can relax after a hard day's work. Remodeling it to your liking will make your home an even more enjoyable place to be.
Conclusion
It's easy to apply any of above tips to make your home more livable and functional. If you come across any difficulties with the renovation process, don't hesitate to ask for professional help or use a reputable company that will renovate your house professionaly. Check out contractors in your area or just head to Polbuilt, the best builders in Glasgow that will renovate your home on a budget to save your time and nerves.