How to Renovate a House on a Budget – 10 Affordable Home Improvement Ideas
Any homeowner can make significant home improvements that do not require much effort. This boosts the aesthetic appeal and property value, priming your home for a future sale. If you don't want surprises and unforeseen issues, it is recommended that you hire a professional team to help you with the work.
In this guide, we will show you 10 easy and affordable home improvements, breathing new life into your dwelling without breaking the bank.
1. Get organised
Getting organised is the most affordable home improvement project that you can self-manage. When organising a home, the aim is to declutter and streamline, discarding any items you no longer need. Go through each room and empty the shelves. After that, you should reorganise what is left.
Remember that an organisation strategy only thrives when consistently implemented. Whatever organisational system you choose, make sure it is easy to stick to in the long run.
2. Painting - a great DIY home improvement!
Painting is an effective method to revamp the visual theme of a home. This task requires a minimal budget if undertaken DIY. You can choose to paint your entire house, the entire exterior, or just the doors. It is up to you to paint as much or as little as you want.
Don't limit yourself to just painting the walls!
Painting tiles is a quick way to change the character of your interior. In just a few hours, old tiles in the bathroom or kitchen can be restored to their former glory and dramatically change the look of the room.
One of the primary advantages of painting your home is its protective function against daily wear and tear. Not only is painting a great way to renovate a house on a budget, but it also protects your home from dust and mould.
For painting, remember to prime the surfaces before applying the main color; it creates a perfect base, improving paint adhesion and durability.
If your walls have sustained damage or exhibit an uneven surface, consider hiring experienced plasterers to rectify and prep the surface before starting the painting process. When you combine it with a good quality paint, the final result will truly stand out.
3. Renovate bathroom tiles on a budget
If you are contemplating cost-effective house renovation methods, refreshing bathroom tiles on a budget can make a world of difference. Even very decorative tiles will not look good if the grout that joins the tiles together is not kept clean. Unfortunately, grout can rapidly accumulate grime, so it pays to know how to freshen it up swiftly and efficiently.
You can choose from a variety of preparations, ranging from markers to repair compounds. There are also home remedies for stained grout. Things like baking soda or vinegar could work wonders. You can refresh or change the colour of the grout within a day. If the grout lines are infested with mould, you may need to replace them completely.
If the silicone grout around your sink or tub is mould-infested, it's time for replacement - an efficient and budget-friendly way to freshen up your bathroom. With the right tools and methods, silicone replacement goes so smoothly that you won't even notice it's happening.
4. Adding updated systems and appliances
Regardless of whether you plan to sell your home or stick around, this is a home improvement project that you should consider doing in a meaningful way. Ensure all home systems are contemporary and fully functional. Here are the home systems that you can fix or update:
Air conditioning
Plumbing line
Water heater
Roof system
Sewer system
When updating your home systems, considering energy-efficient options can significantly reduce your utility bills while benefiting the environment.
This project can carry a higher cost, but the benefits be worth it.
5. Replacement of appliances
Scrutinize your home's doors - be it your entrance or kitchen cabinet doors. Does your current hardware meet your aesthetic expectations? If not, maybe it's time to make some changes.
You can replace the old door handles and also install new door hinges. Ensure you choose materials resistant to rust and wear. Solid brass or stainless steel are durable options.
Replacing hardware can take the most time, but it's one of the easiest ways of renovating a house on a budget and will give your home a new, fresh look.
6. Add technology
Modern homes are increasingly integrating cutting-edge technology, transforming into 'smart homes'. Such homes offer remote control over various appliances via an internet connection.
Below are some smart home devices that are becoming increasingly popular:
Smart light bulbs
Smart thermostats
Smart speakers
Wi-Fi Security cameras
Video doorbells
Intelligent lock
An integral perk of a smart home is the convenience it provides. You can control it from anywhere as long as you have a stable internet connection.
Consider home automation systems that not only control appliances but also learn your habits for greater energy efficiency and convenience.
7. Improve the landscaping
If you need to add value to your home on a budget, look no further than improving your backyard or front yard. The American Society of Landscape Architects recommends investing 10% of your home's value in landscaping. The outside of a home says a lot about the inside. Your lawn is what everyone sees first when they stop in front of your home. You should make it more attractive to yourself and to potential buyers if you want to sell it.
Let's look at some ways you can improve your landscape:
Plant a tree
Cut back bushes and shrubs
Consider an artificial lawn
Update your mulch
Tighten the door
Maintain a healthy lawn
Consider installing an irrigation system
Choosing native plants can be a cost-effective decision. They require less water and maintenance, thrive better, and support local biodiversity.
Remember, the well-maintained landscape enhances the overall living atmosphere.
8. Consider adding a patio
Patios are a valuable asset for every home, providing an outdoor oasis for social engagements. Adding a patio to your home is a great investment. A beautiful patio also completes your outdoor living.
When planning for a patio, think about its orientation concerning the sun and wind. A well-planned patio can serve as an additional living space, increasing your home's value.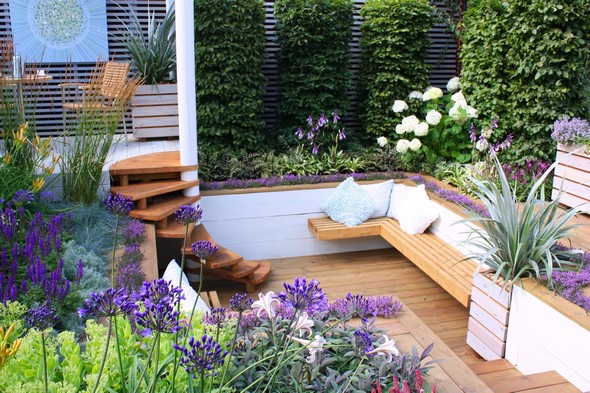 9. How to renovate a bathroom on a budget? Use bathtub liners
This is a quick way to freshen up your bathroom and old bathtub at a fraction of the cost and the time of full bath replacement. If your bathroom doesn't need a general renovation and only the bathtub is the offending element, you can quickly and inexpensively renew its appearance.
With no drilling or debris, after only 2 hours of installation time, your bathroom will have a new bathtub. The process consists of applying an acrylic overlay that adheres and covers perfectly. The elements are joined with a two-component foam, then the drains are connected to the new tub and the joints between the tub and the tiles are siliconized.
Bathtub liners offer a quick and cost-effective bathroom renovation solution, but they work best when your tub is in good condition. If there's existing damage or mold, a complete replacement might be more suitable.
If you're not totally convinced by that, how about hiring bathroom fitters to flawlessly remodel your bathroom?
10. Kitchen furniture metamorphosis
To freshen up the look of your kitchen with minimal fuss and disruption, simply swap out the fronts of your kitchen cabinets for brand new ones. It's a simple process where all you have to do is order new fronts, unscrew the old doors and install the new ones.
Sounds great, doesn't it? In one, two, three seconds you have a beautiful, new smelling, dream kitchen again. It makes you want to cook something delicious in it again.
Advantages of home renovation
Remodeling your home has several benefits. Let's take a look at some of them:
Makes your home more comfortable and functional
When you've done a little DIY work, you're remodeling your home in a way that reflects your tastes. Not only do you create more space, but you can also remodel your dream home.
Renovating your home not only elevates its aesthetic appeal but can also improve its energy efficiency, which can contribute to sustainable living and save you money in the long run. Energy-saving appliances include energy-efficient windows, LED lighting, and energy-saving electrical outlets. These appliances were not available in the past.
Increase value of your property
If you plan to sell your home someday, renovations will increase the value of your home. The standard recovery for the resale value of a home is about 56% of the cost of renovations but it may be much bigger. This report is based on a survey of real estate professionals. Even basic home improvement projects like good quality painting will increase the value of your home.
When planning renovations with the intent to sell, focus on improvements that provide a high return on investment. Kitchen and bathroom remodels, for example, often yield the best results.
Improve the comfort of your home
Your home should be a place where you can relax after a hard day's work. Remodeling it to your liking will make your home an even more enjoyable place to be.
Conclusion
It's easy to apply any of above tips to elevate your home more livable and functional. If you come across any difficulties with the renovation process, don't hesitate to ask for professional help or use a reputable company that will renovate your house professionaly. Check out contractors in your area or just head to Polbuilt, the best builders in Glasgow that will renovate your home on a budget to save your time and nerves.